Want to understand website analytics so you can make better business decisions about your content?
Are you completely confused by the transition to Google Analytics 4?
You're not alone. Sign up al the bottom of this page to join The Content Technologist's first-ever course and community: Understanding Google Analytics 4 for Publishers.
---
Google Analytics 4 (GA4) can be installed free on any website, but its defaults are not optimized for content publishers. It's primarily built to measure and understand ecommerce, gaming, and other click-intensive activities, whereas content-driven publishers focus on passive consumption and longer time-on-page.
Content publishers want audiences to linger, poke around, read, and watch. We want to inspire engagement and connection in our website visitors. We want them to spend longer amounts of time engaged with our content, to go down a rabbit hole, to save the tab for later.
That's why I recommend that content-focused websites change this advanced setting in Google Analytics 4.
As I've written before, the best new features in Google Analytics 4 measure engagement: average engagement time, number of scrolls, and engagement rate are calculated in the standard GA4 package.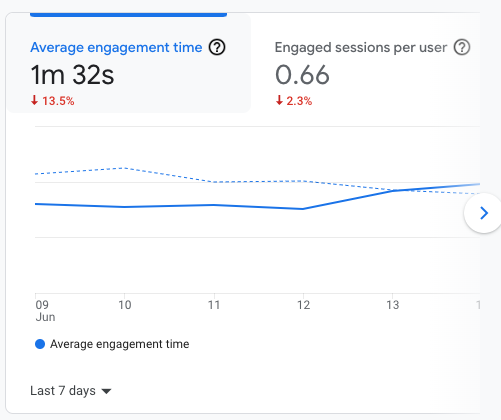 But content-focused publishers may want to tweak one back-end setting to better understand which audiences are engaging the most.
Google Analytics 4's default settings require an audience member to be active for only 10 seconds before it records an engaged session. As a writer, I don't consider someone who's looked at my content for only 10 seconds engaged. If you've looked at the content for 10 seconds, maybe you read a headline or two, but you're not actually demonstrating engagement.
I want them to give me the benefit of the doubt, to scroll and spend a little more time reading. I want an engaged reader to stay with me for—wait for it—an entire minute.
That's why I change my default engaged session time to 60 seconds. It's the maximum duration you can set for an engaged session.
Who should adjust their GA4 engaged session setting?
Content-first websites (i.e., the primary purpose of the website is to focus on readers)
Websites whose lead generation is heavily supported by blog content
Ghost users, Substackers and other newsletters with a web presence
Content marketing websites
For websites that combine ecommerce with content as a side offering, proceed with caution before changing your defaults. Because this setting is at the data stream level, it will affect your entire Google Analytics 4 property. I advise businesses with both commerce and content to coordinate with all internal stakeholders who use the GA4 account before literally shifting the definition of engagement.
How to change the definition of an engaged session in GA4
Changing your default to extend the session duration is absolutely one of the least intuitive settings to find in Google Analytics 4. Every time I try to remember where it is, I have to Google the damn thing after scouring the UI three times. This post is as much for me to remember the process as it is for you to learn how to make the switch.
You'll also need GA4 administrator permissions to change it, so make sure you have those. And if you don't, see above about proceeding with caution.
Click on the Admin gear in the lower left-hand corner.
In the Property column, click on Data streams.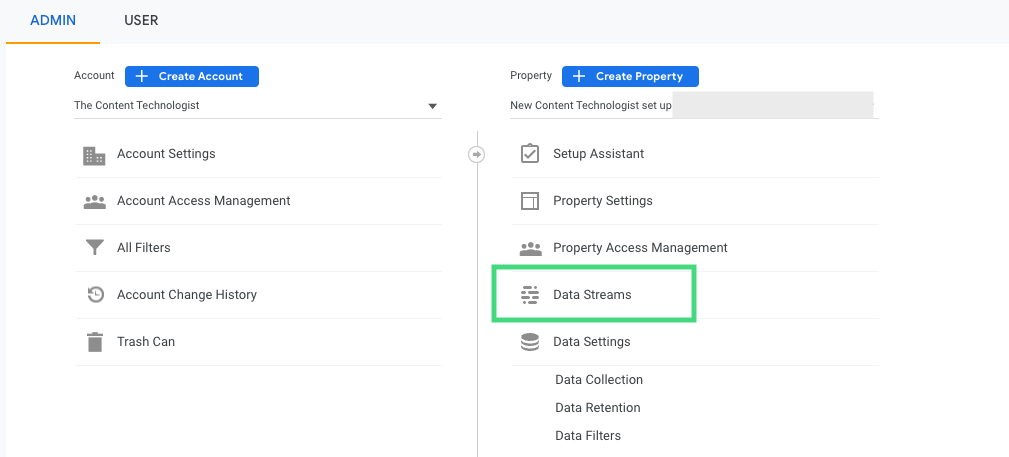 3. If you have more than one data stream, select the one for your website.
4. Scroll down to under Google tag and select Configure Tag Settings.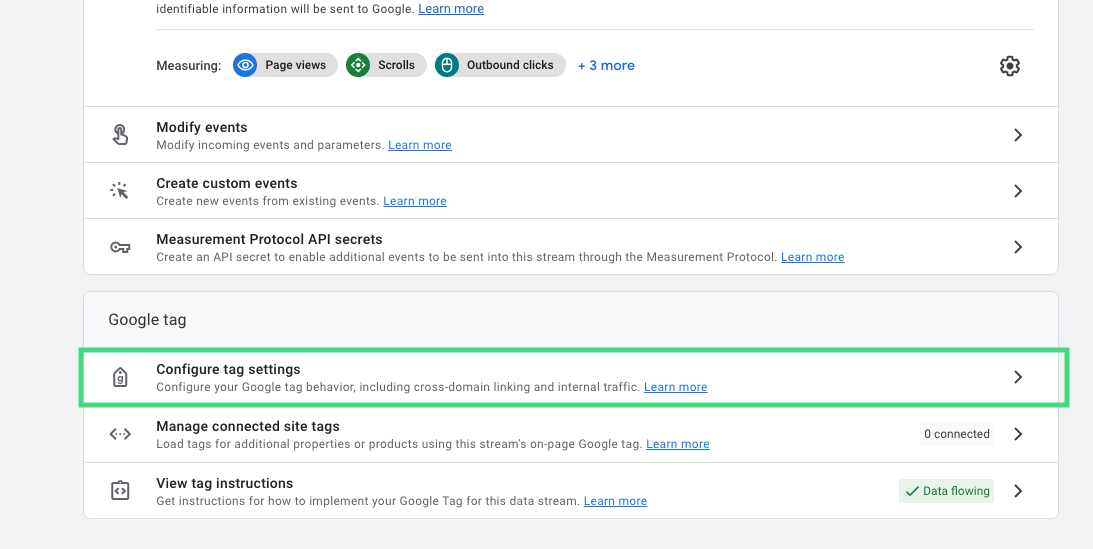 5. This is the part I always miss... Next to Settings, in the upper-right corner of the Settings box, select Show All.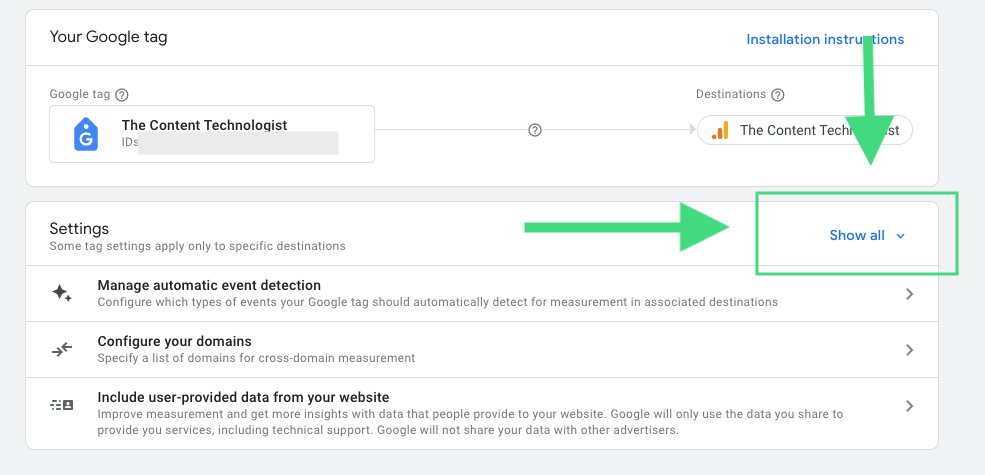 6. A list of five additional settings will appear. Why they need to be expanded in the first place is beyond me.

Select Adjust session timeout.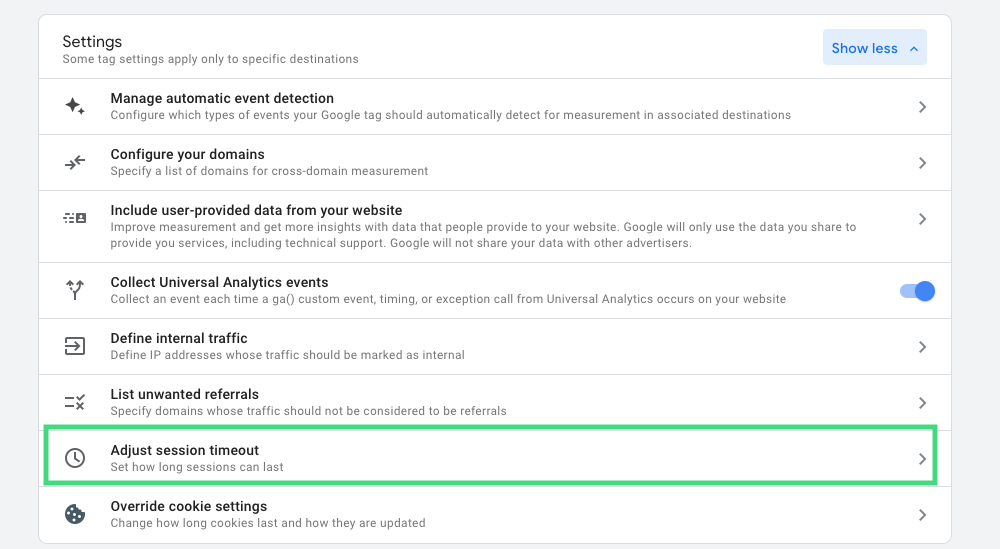 7. You are not going to adjust the session timeout! The Adjust timer for engaged sessions setting you are seeking is hidden in the Adjust session timeout section.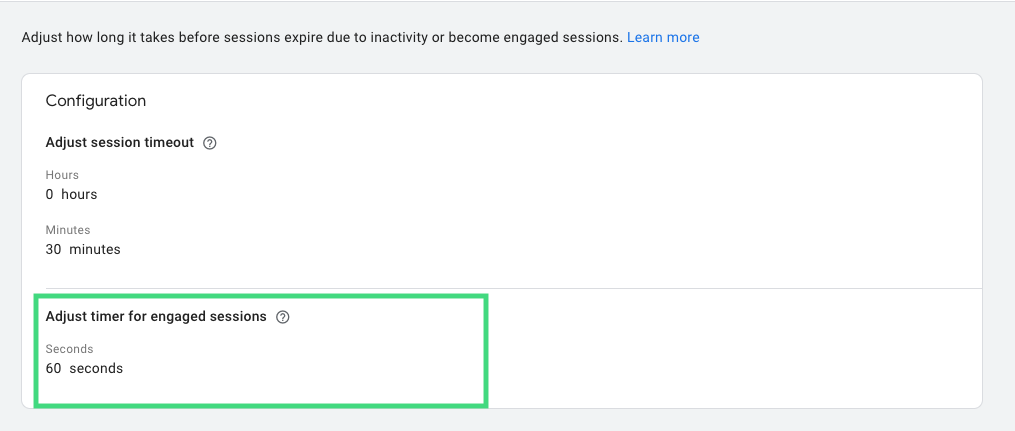 8. Adjust timer for engaged sessions to 60 seconds.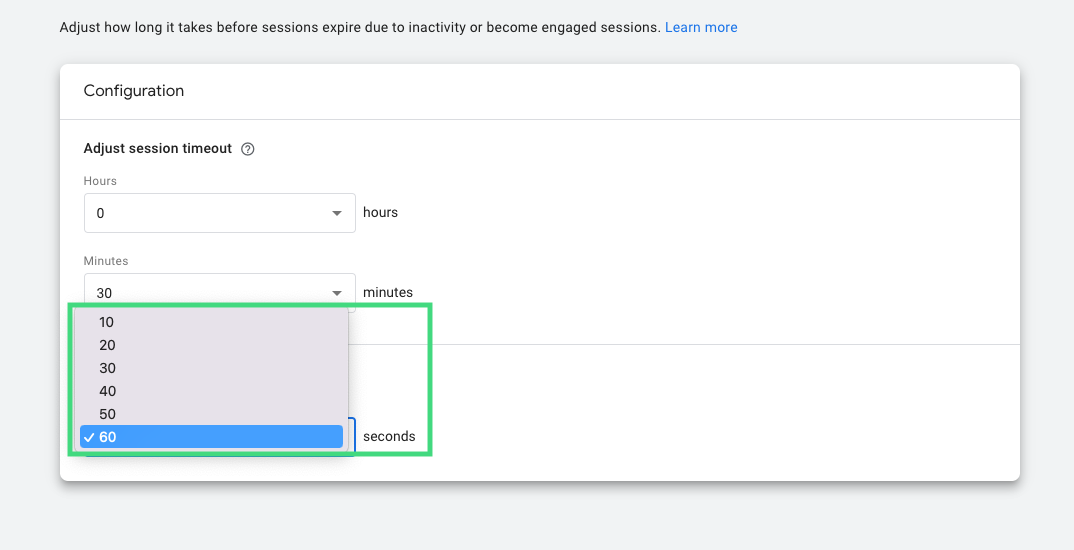 9. Click Save in the upper right-hand corner.
If you are responsible for regular performance reports, make a note on the day you toggled this setting, especially if you are regularly reporting on the number of engaged sessions.
Because we've set the engagement threshold higher, your number of engaged sessions will decrease. But your sense of audience quality will rise, I hope! I know that I prefer to know more honestly how many readers are engaging for a significant amount of time with my content, especially since they'll be more likely to subscribe.
---
Want to understand how your web content is performing? Learn how to configure and read Google Analytics 4 for publishers in The Content Technologist's first online course/community. Join us and start making better business decisions about your content.
Sign up here to be notified as soon as this course launches in late October 2022.