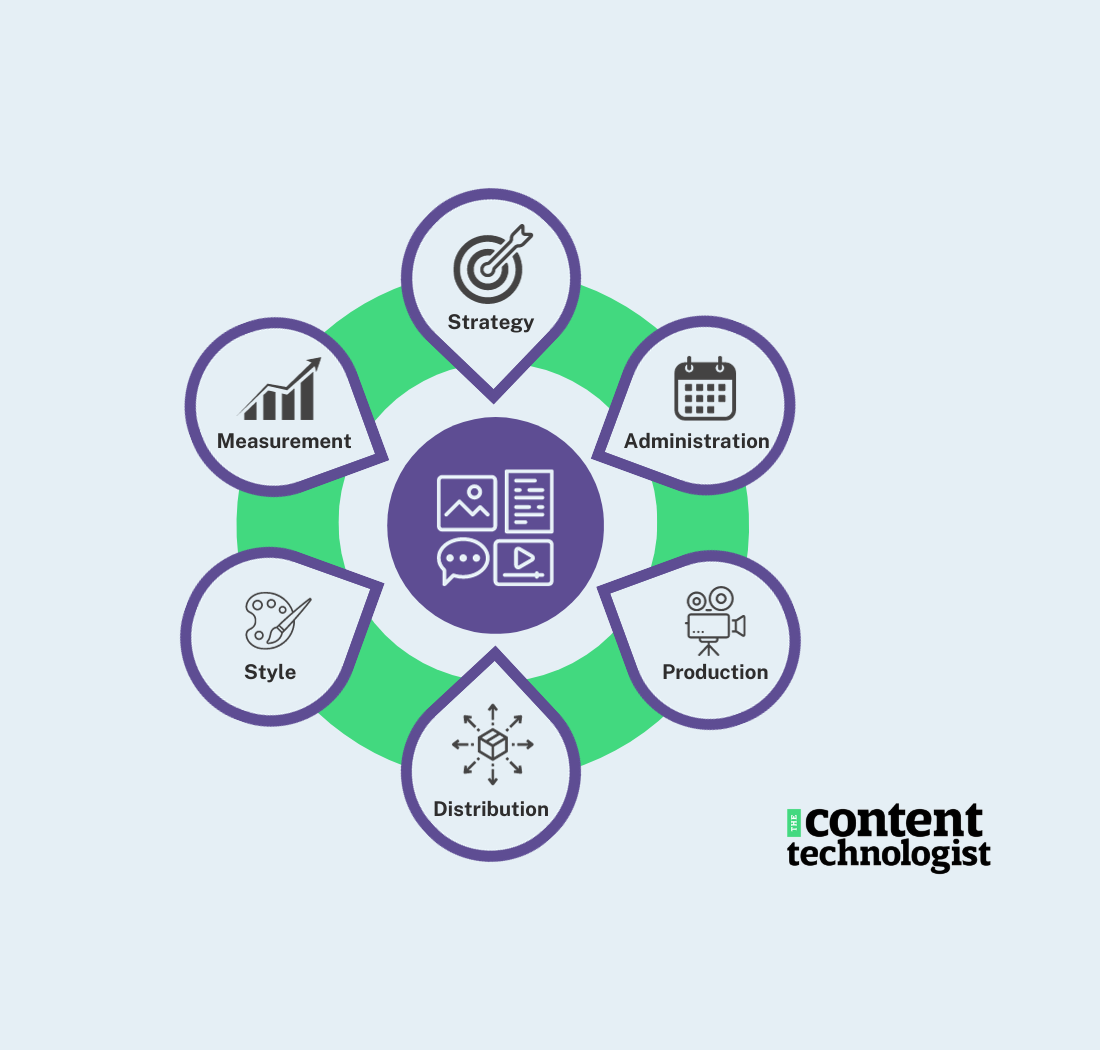 The Content Technologist approach
Our six-step process—reflected in how we categorize our website content—addresses the practical realities of what it means to create digital content
The Content Technologist is a consultancy that helps agencies, brands and emerging publishers develop digital content strategies using flexible but replicable methods to ensure consistency in the face of changing online behaviors and algorithms.
Our services are rooted in our approach, which addresses six discrete areas of the strategic content development process. We believe that you can't just make a creative plan for content success based on what's worked in other media, or even digital strategies from five years ago. The specific behaviors of digital audiences, the limitations and advantages of platforms, and measuring the end results of content performance are necessary to build lasting connections on digital channels.
Our strategic approach to digital content
Our approach comprises six distinct but interdependent areas of developing strategic and effective digital content. Each pillar describes loosely grouped areas and processes of digital content development from conception to distribution.
Audience research, digital channel evaluation, brainstorming and ideation, competitive positioning, information architecture, developing pillars, defining success, writing briefs, big thinking about content's purpose, and the expertise/proof needed to create great content.
Choosing content management systems, identifying collaborators, sustainable planning, requirements gathering, scoping and resourcing, software and tool selection, financing and budgeting, and the how-does-it-get-done of content.
Implementing vision to produce brilliant assets, developing useful templates, digital versus analog challenges, the material circumstances of craft and content creation, iteration, balancing creativity and strategic direction while actually making the work.
Navigating social and search algorithms, influencers and public relations, link-building, anticipating distribution trends, researching hashtags, community management, SEO, and publishing strategies.
Voice and tone, style documentation and pattern libraries, visual approach, the art of storytelling, incorporating trends, intentionally creating meaning and building relationships and maintaining brand consistency.
Assessing content performance, metrics and dimensions, determining KPIs and OKRs, the nuances of measuring content performance and audience behavior, assessing content groupings, writing reports that get results, and creating analytics dashboards.
Our approach informs every piece of content we create under The Content Technologist brand, as well as our services and training programs
Does your content strategy offering need a glow up?
It's almost 2024, and digital experiences have changed in the past decade. Has your agency's content strategy practice kept up?
Take the maturity assessment