I'm not really into productivity hacks because most of them are some variation of "make to-do lists." But! I have one that keeps me on top of my inbox, newsletters and everything else I need to operate my business and generally be informed each day, without too much clutter.
Like many of you, I receive between 100 and 300 emails daily, some of which are crucial to my business, most of which are not designed for immediate consumption, but for slow reading at a dull moment. These days I even pay for some emails, and you're damn right I want to read emails I support.
About 18 months ago, I tried Superhuman, and it was a spectacular failure. If you're not familiar, Superhuman is a paid email service that promises to reinvent how you email. In reality, it turned my email into something resembling a chat program, which is exactly the opposite of how I want to email. I also missed important emails from potential clients because of Superhuman's automated filtering, and the whole thing was a mess. (Superhuman works for many people! But not me, especially not mid-pandemic.)
Following the Superhuman debacle, I figured out my own system: I trained my inbox to reflect my priorities and sort my emails. After all,
It's the email marketer's 404, and I'd compiled the boilerplate many times: Gmail users: To ensure you receive this email, move it from your promotions folder to your inbox tab.
Gmail mostly remembered what I moved to the inbox.
The Social tab was filled with messages from networks I already check regularly.
My Updates tab was actually pretty good? Mostly bill notifications and software release updates.
My Forums tab sat completely empty because if I was involved in any forums, I certainly wasn't getting email .
Where was I supposed to put all these political emails? I don't want to ignore but also it seems there's no monthly update from Ilhan, only daily ones, asking for money.
There were some good emails in my Promotions folder that I didn't want to move to my inbox.
Why couldn't I reverse engineer my gmail inbox?*
*A note: I pay for Google Workplace, so I use the paid version of Gmail. I have not tried this method in my free gmail account, which is itself a spectacular failure.
My gmail tabs workaround, in brief
Gmail has five default tabs whose names can't be changed: Inbox, Social, Promotions, Updates and Forums. I've now restructured my email as such:
Inbox: Personal and work emails, only what I need to read and reply to within a day.
Social: Newsletters from individuals and a select few editorial groups. Mixed entertainment and professional.
Promotions: Most publications and content-forward business emails
Updates: Updates from software I use, invoices/bills I need to see, and news emails from software I don't use but want to track for client work
Forums: All the consumer coupon emails
Steps to make Gmail a nicer, healthier place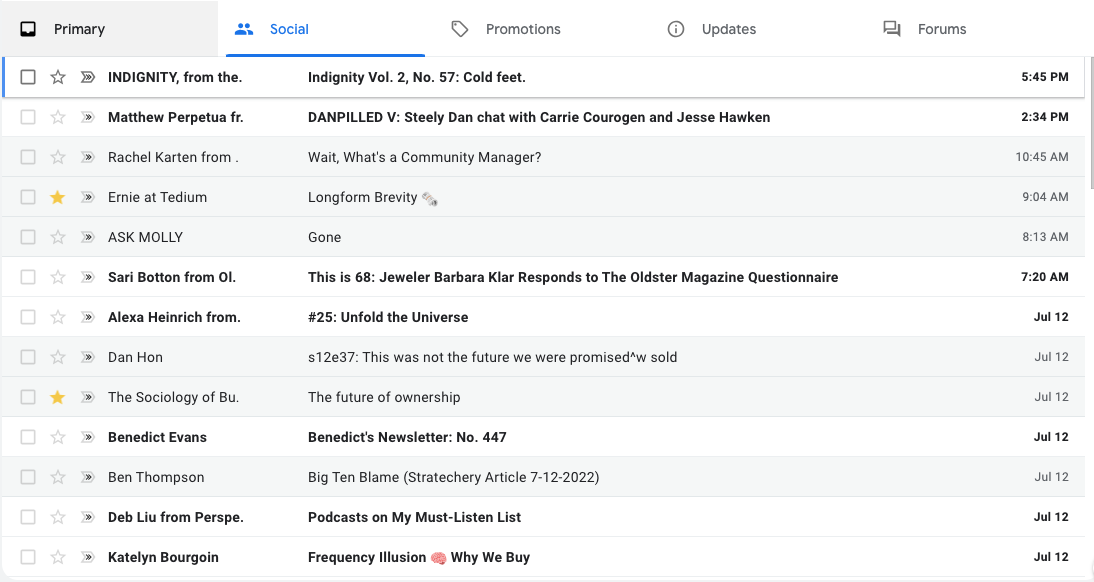 Here's how I rejiggered my Gmail tabs to make my inbox a better place:
Turn on all five inbox tabs in the Gmail settings. One day I'll amend this blog post to add this whole process, but y'know, self-induced deadlines.
Create a priority tab where I see each email. I'd used filter/folder strategies in the past to organize important client communications, but I missed important messages that were misfiltered. Now, I move anything from a client or a friend, all my most important emails, to the main tab: my inbox.
My inbox is only for friends, clients and other personal and work emails that I want to see immediately. Two very special daily newsletters also find their home in my inbox, but mostly: if I can hold more than a day on reading it, it goes into another folder.
Star the most important emails, especially those that need responses. I respond to them in bulk before work, at lunch, or (rarely) at the end of the day.
Unsubscribe from email notifications from any software I use regularly (social media, project management tools, Slack). If I find the communication valuable, I'll log in directly to the tool and respond to messages there. Slimming down the number of emails from software DMs wonders for my sanity.
Move all personal email newsletters that I like reading, but not every day, into the Social folder. If I see a subject line that interests me, I'll click through, but generally I save these emails for when I'm chilling out, riding public transit, or looking for something smart to chew on in between tasks.

This method separates out the newsletters that piss me off sometimes, so I can read them when I'm in a place where I can tolerate annoyance (aka not in the middle of my workday).

I'll star emails that I want to link to in the newsletter or remember in some other way.
Keep all the agency, business, and content marketing emails in the Promotions folder, where they belong. Eliminate all consumer promotions from this folder by unsubscribing or moving them to the previously unused Forums folder.
Move all newsletters from software companies into the Updates folder. Ensure updates folder only covers the most important invoices, billing notifications, and "what's new" emails from software companies.
Everything else that I get don't want to look at often because it's an ad: Forums. If I'm going shopping, I'll scan the forums for special offers. It's also where the political emails go, although I've unsubscribed from almost all.
If someone sends me a personal email out of nowhere, it normally lands in my inbox, but if not, I'll move it and star so I can respond when I see it. If I get an unfamiliar email, it goes to spam quickly. If your company suddenly starts cluttering up any of the above folders, I'll unsubscribe.
This setup preferences content-rich emails and saves space for all those Substacks I love, without adding an extra reader program into the mix. When I'm in my inbox, I want to stay in my inbox, not click to an outward link, unless it's been recommended by one of the esteemed newsletters whose taste I trust. My 2020s digital management ethos is: medium = message / what goes in the channel stays in the channel / get off my lawn if you're not tailoring that content for email.
I also don't chat in email if I can help it. Email is not for chat; literally every other channel is for chat.
Keeping all communications either in my inbox or in the programs where they belong has made a massive difference in my ability to respond to and feel on top of my email, while still being able to subscribe to important email communications from people and companies I want to follow.
---
Hand-picked related content