This review was originally sent as an email newsletter on April 15, 2021 with the subject line "CT No. 77: Platform like a content professional" and an essay about choosing the best content management system.
Since you live in the world, I assume you've heard of Squarespace. The design-forward WYSIWYG site builder has been ubiquitous for years, with its celebrity-cool ads and library of templates. Squarespace isn't a content management system; its front- and back end work in tandem, with an array of integrations, analytics and marketing features.
So if you ask me, "Where should I build my local business/candidate/restaurant/blog/podcast website?" I'm going to answer: Squarespace.
Squarespace at a glance

There's a reason for that: Squarespace builds well-designed websites for small businesses without the need for a developer. They have no freemium option, so you're paying monthly or annually for your website investment. In the get-it-all-for-free-no-questions-asked tech industry, I appreciate Squarespace's insistence that good content and design has a cost attached.
The tool provides features and templates for most small business and ecommerce needs, and its onboarding experience is the small-business equivalent to a discovery meeting with a developer: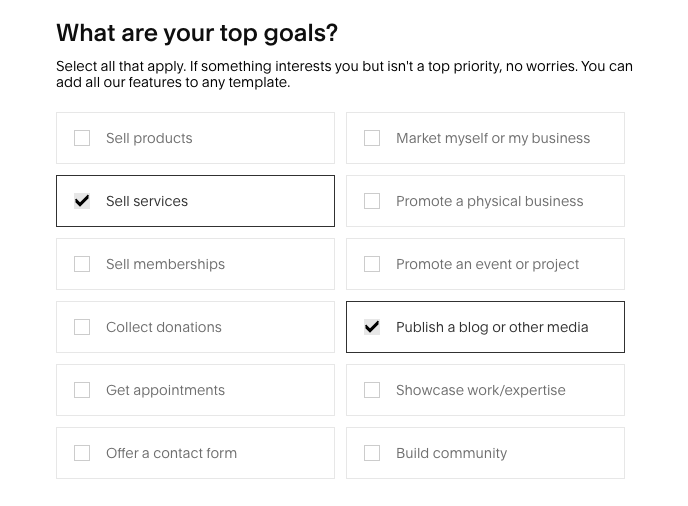 Building a small Squarespace site on your own with no previous experience can be time consuming, but it's absolutely do-able.* I built my partner's website on Squarespace a few years back, and it's still perfectly useful for his illustration blog and comic book products, as well as a showcase for his freelance graphic design work.
In recent months, Squarespace has added email and membership services, seemingly to keep existing businesses from switching to a member or newsletter platform. It's also improved schema deployment, so local business, event, blog post and product structured data is built in—no need to hire an SEO expert to mark up that content. Their technical SEO documentation and content SEO checklist are thorough and well-written.
My one tip for all design-forward websites: even with a content delivery network (CDN), large, uncompressed photos are a source of SEO lag. Minify and optimize your images as much as possible.
I don't love the recent ad campaigns about side hustles, but Squarespace builds strong, optimized business websites for your main squeeze or your side thing.
Like a fashion designer collaboration with a big box store, you know a Squarespace site when you see it, but it doesn't really matter as long as it looks good.
*This is what I hear. I have no idea what it's like to build a website with absolutely no previous experience.
---
Hand-picked related content