Our mission is to support knowledge workers in the theory, practice, business and craft of publishing digital content— and we realize that support cannot be provided via newsletters and websites alone.
So we're launching not one, but two live virtual events series. Here's what you can expect from The Content Technologist in the last part of 2023: Monthly-ish salons and skill-building workshops.
List of 2023 live in-persona and virtual events:
September 26: Beyond the campaign: A workshop about developing branded formats - Live in NYC with Storythings
October 19: How to scope and sell content projects - virtual skill workshop
November 3: Practical AI for content professionals - virtual salon
December 1: Never go out of style - virtual salon
December 7: How to plan change with 1st party data - virtual skill workshop
Live workshop with Storythings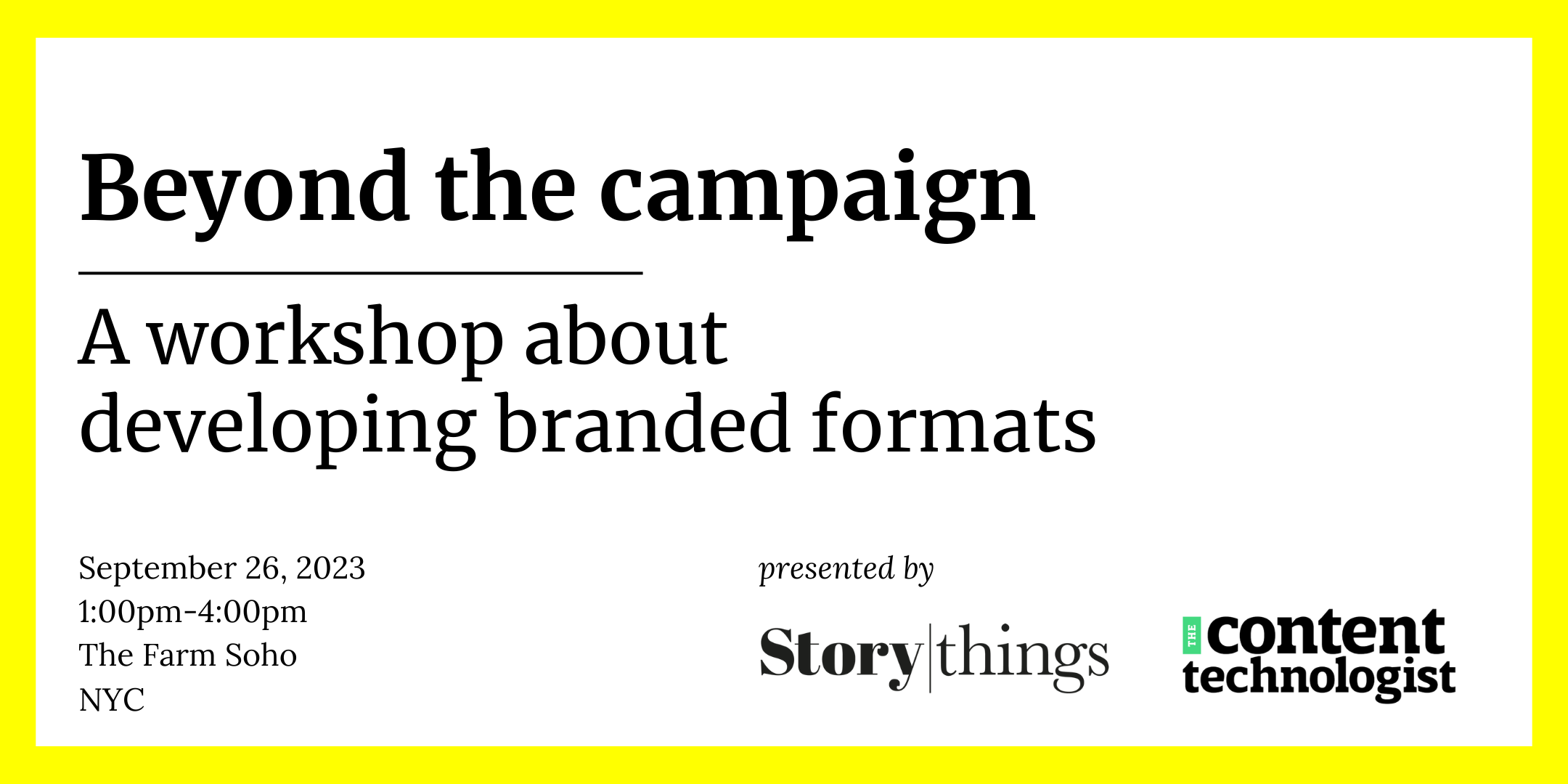 September 26, 2023
1:00-4:00PM, The Farm Soho, NYC
Campaigns are great for advertising, but their impact fades the second the channel changes and attention shifts. Formats, on the other hand, build lasting connection and keep audiences returning for more.
In this workshop, join Matt Locke of Storythings and Deborah Carver of The Content Technologist as they explore the theory, strategy, planning, execution and measurement of formats as a vehicle for brand affinity.
You'll learn:
Why understanding your audience's attention strengthens content strategy
What formats are, and why they're effective audience-builders
Which internal and external data support branded content viability
How to budget, plan, execute, measure, and iterate formats successfully
This workshop is designed for brand and content directors who are interested in moving beyond experimental content campaigns and into long-term branded content programs. Attendees will leave with a tangible plan for starting a format within their organization.
Whether you've been considering developing a newsletter, podcast, web series, or other digitally native content series, this workshop will help you plan branded content formats that cultivate connection, attract audiences, and support business goals.
2023 skill workshops
Designed for agency professionals, brand-side content strategists, and independent creators alike, our monthly skill-building workshops provide practical advice, usable templates, and knowhow for content professionals looking to advance their careers.
Up next: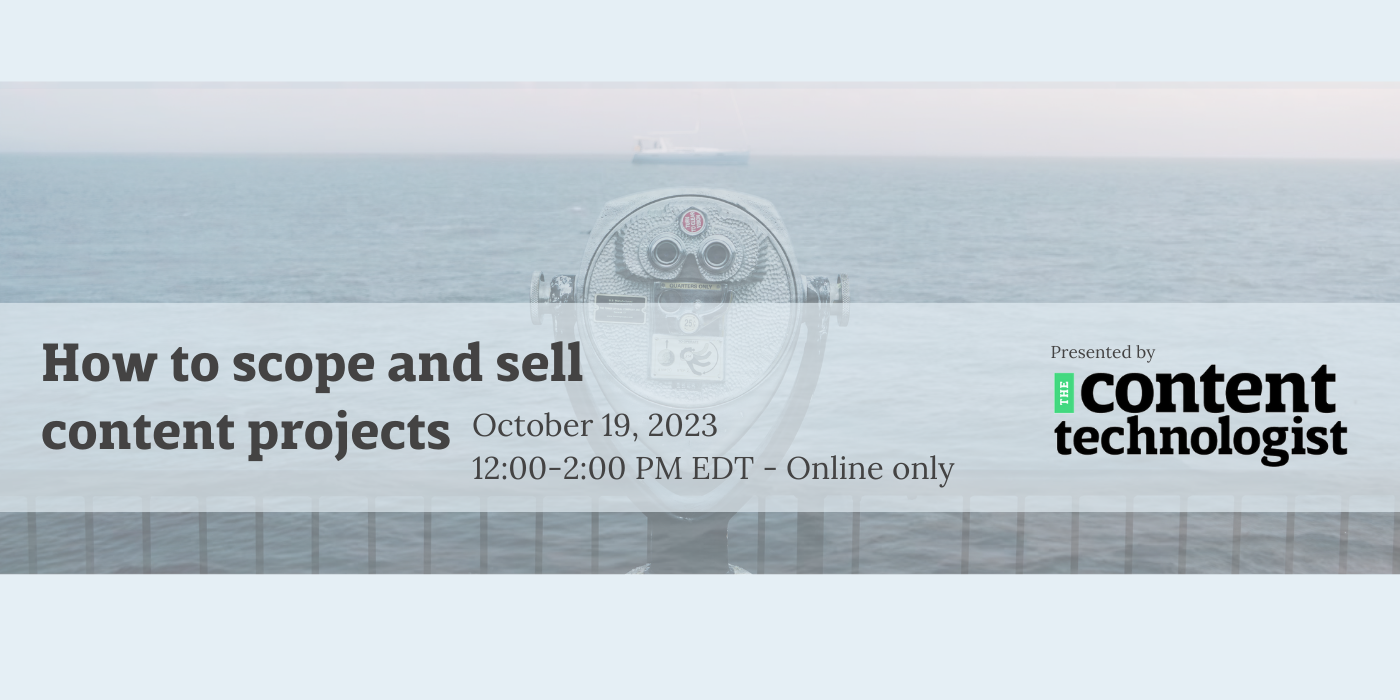 October 19 from 12:00-2:00 PM EDT: How to scope and sell content projects
Designed for: Independent creators, agency strategists, and brand-side leaders who want to launch more advanced content marketing projects
Looking to sell more complex, comprehensive and lucrative content strategy projects next year? This workshop on content project scope and administration is for you.
Whether you're managing content strategy at an agency, selling content projects internally at a brand, or working as an independent freelancer, this workshop will give you practical skills to level up your proposals and, more importantly, get them approved and signed.
Content Technologist founder and publisher Deborah Carver will walk you through her project scoping process, from discovery and strategy to execution. She'll outline the necessary proposal and pitch elements to get your content project approved by business leaders and executed profitably.
With a decade of scoping and selling millions of dollars' worth of content projects for high-profile clients—including four years of running a successful freelance consultancy— Deborah will coach you in speaking the language of business decision-makers, even if you're usually a freethinking creative unicorn.
We'll also feature scoping and selling processes of other industry professionals, so you can customize your approach based on your style and business.
Register today for the two-hour workshop, which includes internal working sessions and a practical template for creating better proposals. Content Technologist members can check their email for a link to a significantly discounted ticket.
Other skill-building workshops on the horizon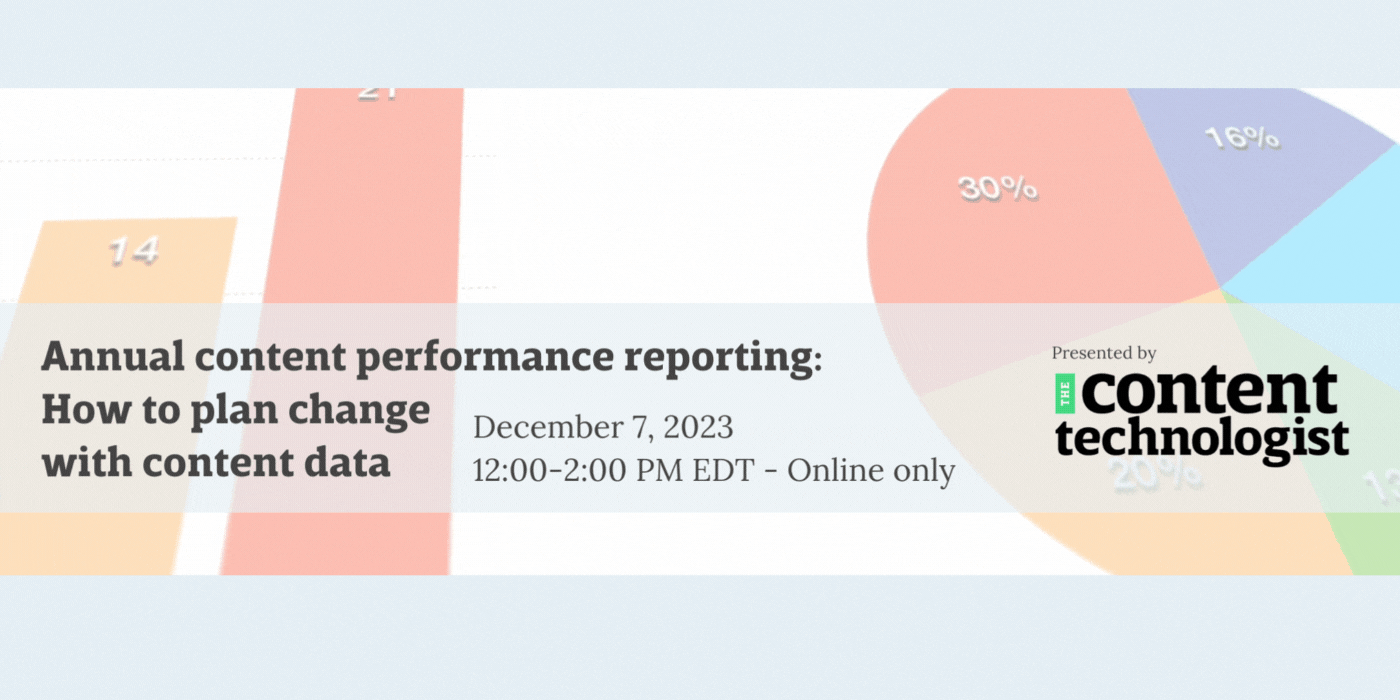 More details soon!
Monthly-ish salons
On the first Friday of each month, we'll gather three experts — our contributors, collaborators, and a few new voices — to go deep on digital content topics that matter. We'll talk current events in digital media with a professional perspective, address how we're adapting, share unique insights about what's happening in B2B content, and throw in some bits expert evergreen wisdom.
We'll also feature speed networking with other attendees, a virtual tradeshow floor, and other interactive elements, so attendees can meet other readers and make quality connections with others in content design, content strategy, SEO, and UX.
Our live, online monthly salons are only $10 for Content Technologist members... and we won't be making the entire recording live afterward, so we'll be sharing some secrets and unique insights you won't be able to access unless you join live.
2023 salon dates and topics
Up next: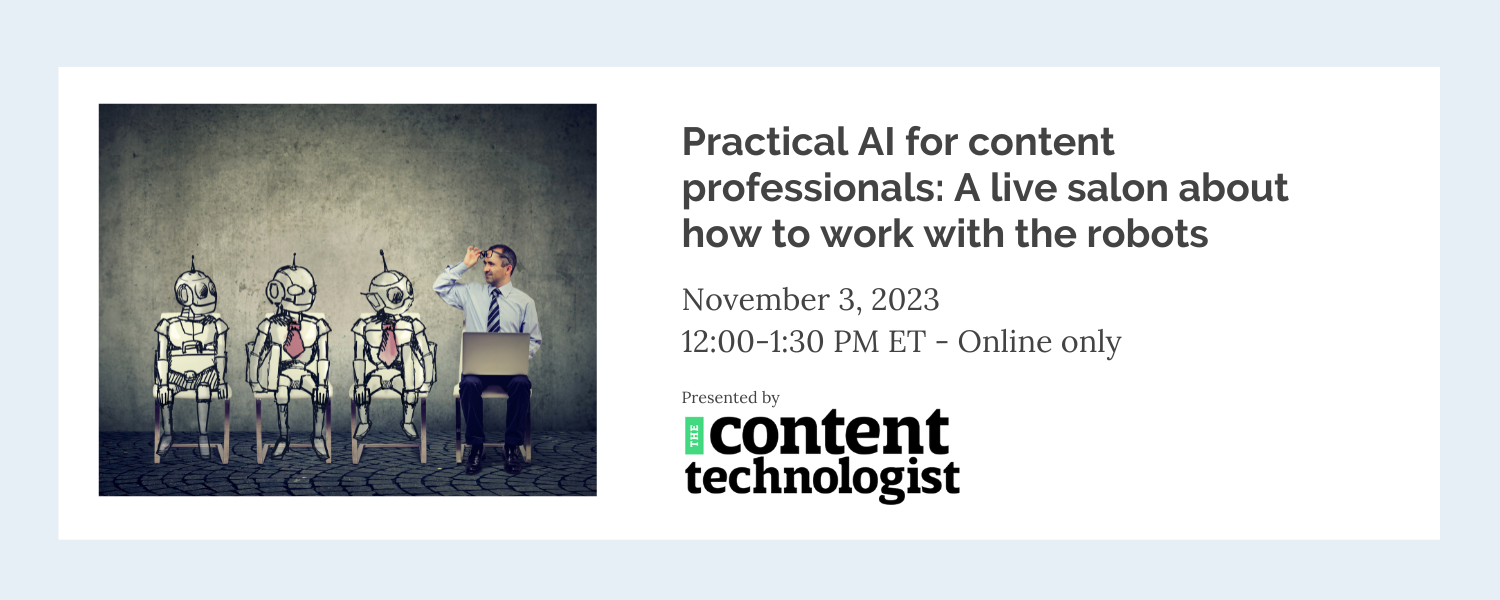 Date change! November 3, 2023 from 12:00-1:30PM ET

What's the future of content professionals in the era of generative artificial intelligence? We'll explore where we're at with AI, what the technology can and can't do (despite what you may have heard), and how content people can make the robots work for them.

You'll also have the opportunity to network with other attendees, get ideas for tools and technology to manage social media, and generally have a lovely time.
Guests to be announced in mid-October.
December 1 from 12:00-1:30PM ET
In the age of automation and replication, style sets your content apart and makes it more human. But what is style, exactly? Get ideas for how to cultivate and advocate for content style in your organization; identify tools and tips for keeping style on-brand; and help us define the different dimensions of digital style.
Guests to be announced in early November.
Interested in sponsoring any of these events? Get in touch.