Hello, Content Technologist readers, and welcome to a very special issue. No essay, links or bumper this week, just straight-up newsletter. This one's for the readers!
In 2014, a year into my first agency job and at the height of social media hype, I was ecstatic to find other people—physical, emotional people who I could talk to in real life—who cared about digital content. Before the social media boom, internetting for fun had been a mostly private, niche endeavor waved away by media professionals and academics alike. Before 2008 or so, talking about something you read on the internet was gauche, not something socialized professionals did. Now, not only was I making a living from my knowledge of the internet, but I was meeting other people who had the same interests.
And that's how I met Aimee Gonzalez-Cameron: at a content strategy meetup event. We connected over our shared alma mater and understanding of WordPress, and we were both excited that the world online seemed like a viable way to make a living. Aimee also fervently hated PDFs, and I was excited to find another person with strong opinions about file formats. She told me about her PhD studies in evaluation, and as a former academic, I listened intently.
Aimee also hated PDFs, and neither of us were shy about sharing our opinions. Like many of the amazing Minneapolis content strategists I met in those early years, we got along! Swimmingly! We kept in touch.
Not long after we met, Aimee got a job working at a big fancy tech company and moved to the Bay Area. A couple of years after that, I saw that she'd moved to Melbourne while I stayed in Minneapolis. We both built our careers the millennial way, spending a few years each at different types of companies, in search of satisfaction, independence, work-life balance, and a decent income.
Then I quit my director-level job at a legacy media company and started my own consulting shop. I knew there was a demand for data-driven content research and experts in digital workflows that I'd tinkered with at previous jobs, and I was tired of having to explain and sell digital to coworkers at a company so committed to print. As a freelancer, I could have more control of my clients and projects, and if I was working all the time anyway, it might as well be on my own terms. Also, I wanted to write, and the email newsletter was clearly making a comeback. I started working with clients four years ago this week, and started my newsletter— primarily to attract consulting clients—in July 2019.
Aimee popped up from her Melburnian adventures as one of the first 20 subscribers and reached out a month after I sent my first issue. She was in a VP-Strategy position at an Aussie company and wanted help redesigning the company's website. That company became what I consider my First Newsletter Client, a client who hired me for my new work rather than my past agency connections.
Our first collaboration was rather brilliant; we had a badass team and made something really cool (sadly, no longer online in its original form). And we stayed in touch after she left that job because it was the pandemic, and hey! It was easy to chat with friends with whom we were already used to seeing on video calls, even halfway across the world. And because we knew: making new friends in your 30s is a challenge, so hold onto the people who get you.
Aimee moved back to the States and continued working in tech, and I grew the newsletter and consultancy despite that crush of pandemic challenges. When she told me she was seeking employment with one of the tech giants, I supported her but secretly wished she could come work with me. She was one of the first people I'd asked to write for the newsletter because of her quick wit, deep background in both business and tech, and love of blending academic thinking with everyday work. And when she decided not to proceed with the tech giant job offer, I swooped in with the ask: "Would you want to work on growing The Content Technologist with me?"
Reader, she agreed. We've spent the past few months outlining what that partnership would look like. And here we are.
The Content Technologist is no longer a solo shop, and Aimee is now a co-owner. Her business savvy, passion for education, understanding of development workflows, and experience in both strategy and operations complement my strengths in content production and performance analysis. We both see the same opportunities and challenges in the media-tech-agency ecosystems where we started our careers. And we're both swimming in the same global-digital waters where remote work is a given, where close connections can exist in any part of the world, and where we treat our audience like the brilliant people you are, rather than the nameless masses favored by both big tech and legacy media companies.
Where are we going? We're hoping to spread our shared passion for both career education and the current tech landscape. That means: more classes, more events, more coaching, more research, and yes: more newsletter.
Because let's be honest: Good content for working professionals is rare. Legacy B2B media hasn't shifted its aim from the executive class to knowledge workers, still providing only high-level summaries for happy-hour chitchats. Newer B2B media companies siphoning sponsorship dollars from big tech focus heavily on surface-level boosterism and less on the reality of working day-to-day.
Many B2B outlets publish user-generated content developed by knowledge workers, usually created as a career-boosting side project outside normal work hours, by creative businesspeople who just want to feel the connection and drive of creating for a community. But those adapted conference presentations rarely go deeper than press releases, trends and case studies because, well, no one is getting paid for it, and they're published on websites drowned in ad units with too little focus on customer experience.
The companies producing the best digital content are often the software vendors themselves, who, while making great resources, are still only focused on promoting occasional content directly related to their products.
In tech and media, many of us graduated from college (and often have at least some grad school experience) and have the student debt to prove it. We've also put in years of work into understanding the nuances of business and the technology of the companies we work for because we were told going above and beyond was a necessity. And yet, content created for knowledge professionals has yet to move beyond listicles and 500-word basic overviews and more into actual experiences of practice. We consider ourselves craftspeople. We like knowing how our tools and distribution systems work.
And B2B media companies aimed at marketers or media workers simply aren't doing enough to save jobs or elevate the roles of intelligent, savvy, experienced content professionals. Whether they're called reporters, content designers, creative marketers, or UX researchers, the positions designed to create high-quality content are often the first to be laid off, outsourced, or automated. Our friends and colleagues spend too much time stressing about whether they'll have a job the next time management overinflates the forecasts, or whether they'll find be able to find another job as they age.
The freelance road is just as challenging as working for a content or tech company. The Content Technologist was my third go-round at freelance work, and the only successful one… and it only lasted four years before I, too, wanted to grow and explore more with my career. Aimee also had some freelance and side-hustle jaunts, all ultimately frustrating and unfulfilling.
Some other platform-based options exist for content professionals, but an independent career in social media requires constant attention, and influencers complain of burnout. Substack is taking interesting directions, but writing a newsletter for years at a time with no help sounds exhausting for all but the most well-established writers. LinkedIn content can be informative, but good posts are few and far-between and can't go much deeper than 3,000 characters, let alone earn anyone a decent living. Forbes is a total garbage fire that destroys my browser with ad tech.
So here we are, trying to figure out how to reach that audience (you) in a way that's ethical, sustainable, and supportive. We're here for the content designers, the digital strategists, the agency professionals, the brand stewards, the audience managers, the newsletterers, the SEO specialists, the creative marketers, and the creatives who seek a little something extra for their careers in digital content.
We want to help brands better develop their content processes, assumptions and methodologies in ways so success can be clearly measured and replicable. We want to help publishers make more money and stronger websites so they can pass that success along to their content teams.
Finally, we're serving the independent freelancers, influencers, and owners of small, boutique shops (like us) who want to learn better methods for managing creative work and the business of content, which can often be two different things. And we're hoping to expand beyond primarily written/web content expertise into other areas, because "content" has much broader definitions.
But the focus of The Content Technologist will remain education and support for content professionals. We're hoping to build partnerships and friendships with the best independent brands, publishers, agencies, vendors, and individuals working on the internet. We're set on ensuring content producers are fairly paid for the time they spend collaborating with us, so they can enjoy life offline. And we know that new tech, especially AI-generated content, is an inevitability, so we're here to help you navigate those changes and still feel like a human.
No matter where you're at in your career, we're here to help you navigate the software, the algorithms, and the data you need to prove the viability of original creative work.
As we're fine-tuning the plans for the next year, we're happy to hear your questions and thoughts. If you're interested in future collaborations, give us a reply… but there's a good chance we'll be reaching out to you.
In the meantime, we're adopting some super corporate titles, primarily so the tech bros recognize that we mean business. So here we go:
Aimee Gonzalez-Cameron, Chief Operating Officer
Deborah Carver, CEO and Publisher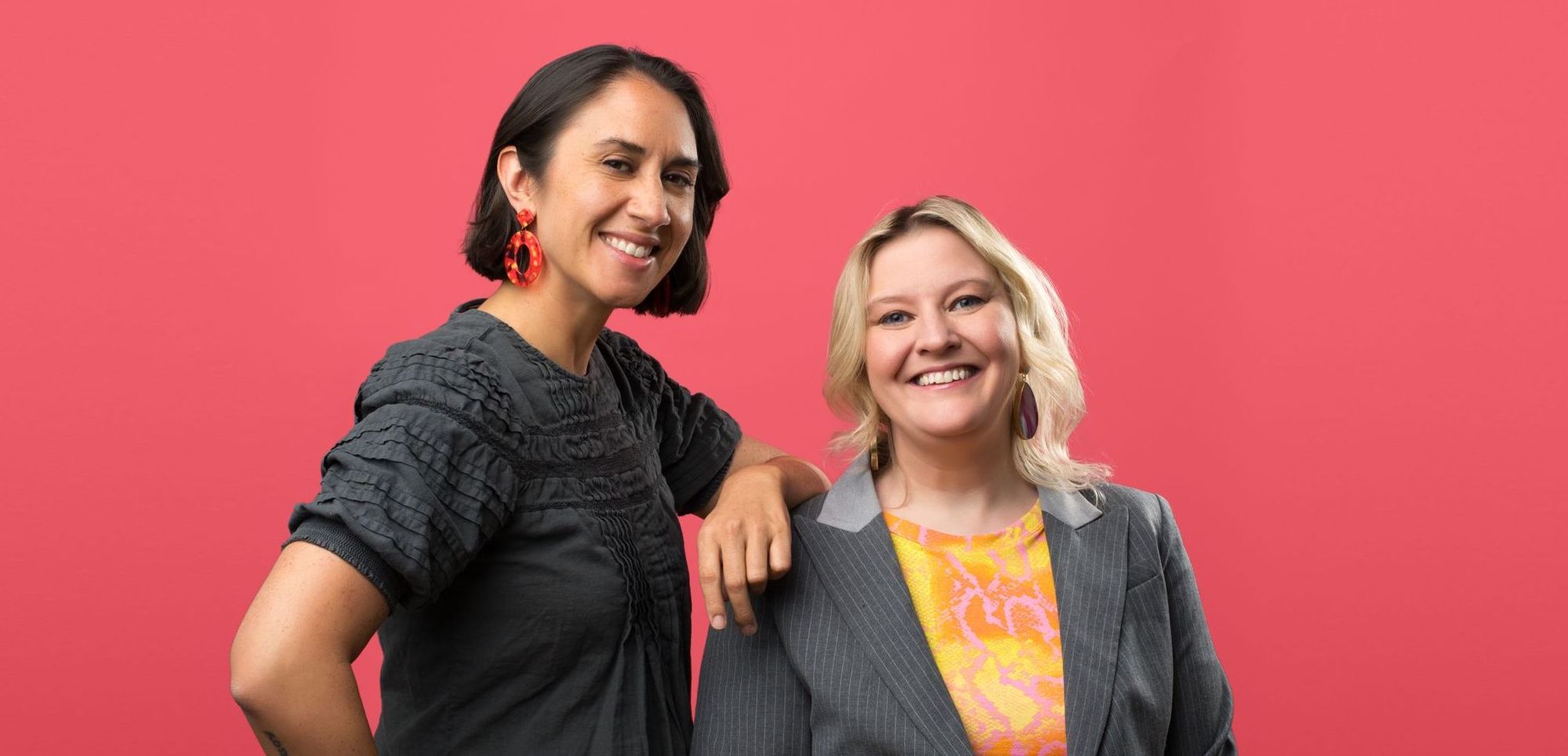 It's fun, this business growth thing. Now we're planning to take our combined energy, strong opinions, and damn impressive experience and make some fucking great content.
Cheers to new horizons!
Deborah Carver, CEO
aka DC